Amplify Trading
Global Markets Review - 24h September 2019

24 SEP 2019 | Careers
Amir Khadr - Head of Technology
Today's Highlights
UK Supreme Court declares PM Johnson Parliament Suspension unlawful
Democrats to back Trump's impeachment if the President ignores Document request on Ukraine interaction
German Ifo outlook at 10 years low.
US Consumer Confidence and Richmond Manufacturing Index disappoint expectations
Macro Review
A lot of things in the mix today, which started off with prevailing risk-off tone, after the release of the German Ifo Business Expectations coming at 90.8 vs the expected 91.8. The surveys outlook remains worried about uncertainty over Trade War and slow down in the car manufacturing sector. Major bourses, traded mainly cautious also ahead of trump UN Assembly speech. Nothing new during his talk despite sounding relatively more hawkish on China and Iran in the first half and more balanced during the end.
However, selling pressure build up after the EU close, amid sources suggesting that the President is increasingly likely to face impeachment proceedings as House Democrats raced Tuesday to pursue allegations that he solicited Ukraine interference in the 2020 election. Reading the latest report from the US, media are most certainly loving the idea and creating a lot of noise. However, the likelihood of Trump being impeached is very low, given the actual process to overthrow the Presidency due to impeachment. Watch
HERE
video for more info. Many impeachment charges were proposed in the past - the latest to George W Bush. However, none was ever ultimately approved. The only President to be impeached "for lying under oath" was Clinton but eventually declared not guilty. Nixon was the only President to be impeachment that was going to loose the vote in the House and therefore decided to resign. The President may be declared guilty should 2/3 of the Senate vote in favour. i.e the only way a President could be removed from office via an impeachment charge is to basically lose the backing of its own party. The market move makes sense, since this still remains a tail risk, however the move was exacerbated by today general Risk-off sentiment, with the market being worried about the prospect of a recession due to the recent manufacturing data.

Over to Europe, as expected today UK Supreme Court declared PM Johnson Parliament Suspension unlawful. The ruling expressed the immediate need to resume normal Parliamentary activity. Few minutes after the announcement, Speaker of the House Bercow recalled Parliament as soon as Wednesday. However, the Government still has the opportunity of suspending Parliament. Moreover, will be interesting to see what the Parliament actually has to discuss, given the lack of options on the table at this point.

EU Close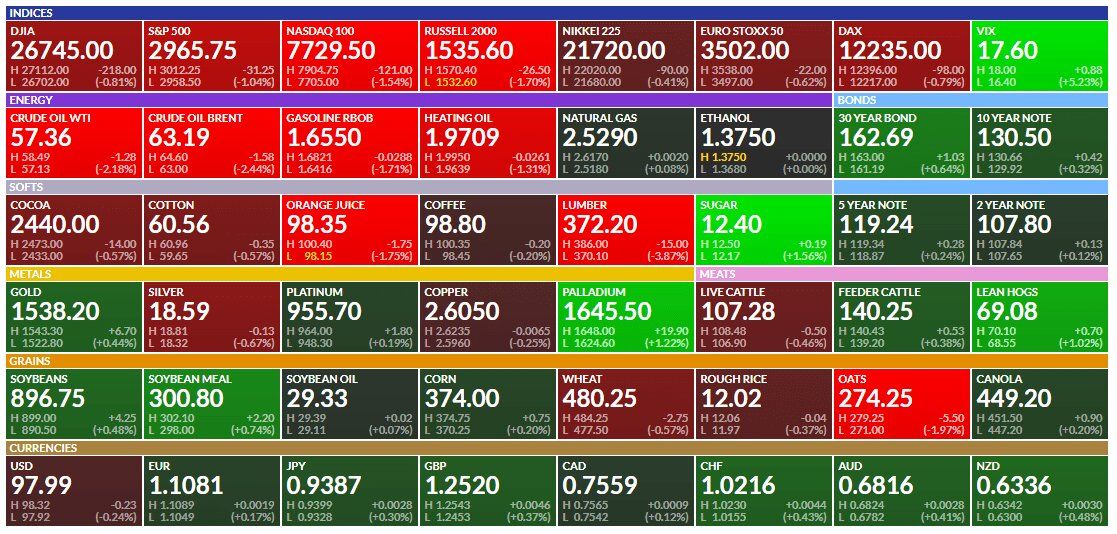 If you missed the morning briefing from the desk click
HERE
The Market Maker

daily
e-newsletter and weekly podcast
99% said it helped them gain better knowledge of markets
70% said it helped them prepare for a job interview
Top 5% most followed podcasts globally
Top 5% most shared globally in 2022
Listened to in 84 countries world-wide