Filip Lagaert: Full-time Trader

16 APR 2019 | Careers
Amir Khadr - Head of Technology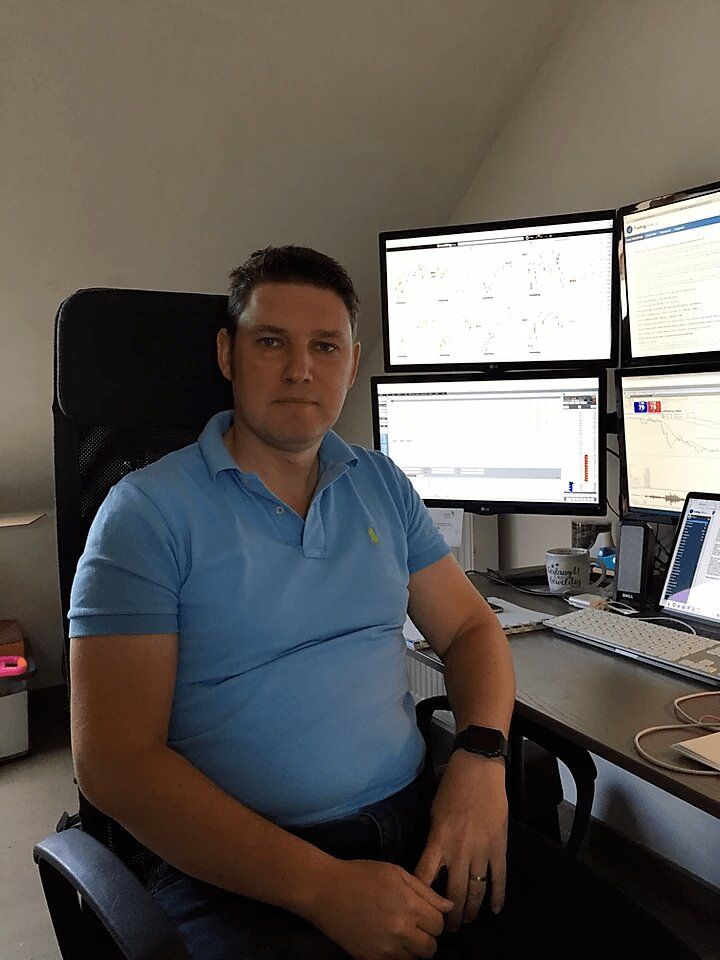 Filip Lagaert

What course did you do with Amplify Trading?
I did the professional trading course in October 2017.

What made you choose Amplify Trading?
I saw Will and Piers on a BBC documentary aired on Belgian television. Just from the look of the documentary, I already had a good feeling about them and saw that they knew what they were talking about.

What was your prior experience before completing the course?
6 years of ING dealing room in Forex and the ACI Australia dealing simulation course. I was already day trading for a year, but my profits weren't consistent. Often, I would start the week great, but could never manage to keep that profit and by Friday afternoon I was often looking at a loss.

How did you find the transition moving from the simulator to trading live funds during the course?
Very good, but tricky. In the simulation, we solely used CQG which is an outstanding platform. I didn't have any mental issues at all with switching from demo to live, probably because I had already dealt with the hurdles and pains of having losses in a live trading account.

Are you still trading at the moment?
Very much and trading is going well. I'm trading next to my own consultancy firm which helps companies hedge their forex exposure. So having your finger on the pulse of the markets is primordial for me.

Trade setups are nothing like the trades I used to do 2-3 years ago. You get to have a more binary view on trading and you need to have your game plan in your head when the asset hits your targeted zone for entry. Since September 2018, I've been averaging a 10% to 15% profit, which is quite the difference from the losses that stacked up in my earlier trading days. But I wouldn't have been able to trade without Amplify Trading.

The solid guidance that you get in the morning from analysts is state of the art. Large banks have morning meetings where they pitch trade ideas and take notice of traps that can occur during the trading days. So you, as a sole trader, certainly need that same knowledge, otherwise you can never compete against that. And that is what Amplify Trading's edge is: They are your flashlight in the dark tunnel of financial markets.

Are you still in contact with the Amplify Trading team?
Certainly. During trading hours, I always have the trading-live chatroom up where you can speak to Amplify Trading's analysts. I also try to catch up with the people of the firm at least twice a year in London. It's always good to see them, and to learn a little bit more from them when you're over there. You get to ask some more insights on trades, pitch a few trade ideas and have broader discussion on how to tackle certain intel and news that comes at you.

You also get more coherency, since you are part of the group, which helps at home to get motivated to tackle the next trading day. That is for me a very important psychological factor: that you can share things, and get reassured that you're not the only one dealing or coping with a bad trade or psychological warfare of the markets.

Do you feel the course was a good investment in the development of your trading?
I think the professional trading courses earned themselves back already. I'm even considering maybe to pick back up another course just to get a refresh of some basic ground rules and concepts, as you tend to forget those from time to time. But I think the courses from Amplify Trading are a mandatory element if you really want to master trading and become consistent in making profit.


The Market Maker

daily
e-newsletter and weekly podcast
99% said it helped them gain better knowledge of markets
70% said it helped them prepare for a job interview
Top 5% most followed podcasts globally
Top 5% most shared globally in 2022
Listened to in 84 countries world-wide