Ben Reynolds: Full-time Trader

18 JUL 2019 | Careers
Amir Khadr - Head of Technology
Learning how to become a professional full-time trader has always been the plan for Ben Reynolds. Ben had tried multiple online courses created by 'professionals' and 'previous professional traders', who were unfortunately not who they said they were.
Fortunately, Ben kept up to speed with
Amplify Trading's morning briefings,
and knew that 'these guys at Amplify Trading really know their stuff!'.
"I was so impressed with the course, that I wanted to come back and learn more with them"
- Ben, pictured.
Ben popped in to the office only last week to say hello, and we discussed his time on the course and what he has been up to since. Here is what he has to say…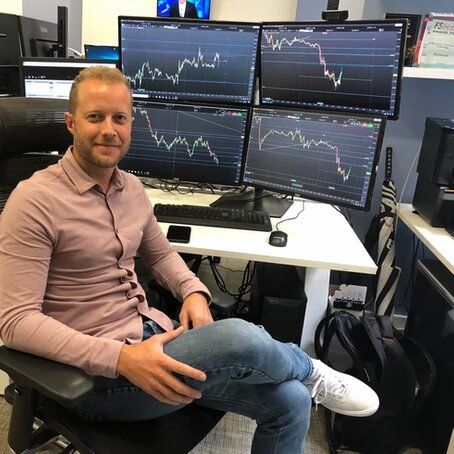 Ben Reynolds


What made you choose Amplify Trading?
After having been through a few previous online courses and paying for one-to-one tuition online with 'previous professional traders' (that turned out not to be), I had a good idea of what to look out for when it came to a real education within this industry.
After watching the morning briefings on YouTube for 6-8 months I soon realised that these guys really know their stuff, especially from a fundamental and technical point of view.
After a lot of research, I arrived at the decision that Amplify Trading is a truly professional and knowledgeable company, and if anyone was going to be able to teach me how to trade, it would be them!
Did you have any previous experience of financial markets or trading before hand?
I traded whilst working full-time, but it was only based on technical trading, which is not even nearly enough to be able to trade properly and consistently. I soon realised this was the case after a year or so of losing capital.
What were the other members of your cohort like?
I was very lucky and we had a solid group of people on my career programme. We all got on very well and bounced ideas off of one another every day which helped to build confidence with the trades we were placing. Trainees were from various countries and age groups, and totally different backgrounds (from cab driver, to barrister, to estate agent).
What part of the nine-week course did you find most beneficial to you?
The whole course was very good. I enjoyed every moment of it. I think the first week with the intense fundamental training really set me in good stead going forward and made me realise that there is so much more to it that moves money to and from different assets than just technical levels of interest and charts.
What was it like working with the Amplify Trading team?
Really enjoyable. The amplify Trading team are very friendly and approachable people. A lot of the mentors that are now training students there have been through the course themselves so they can sympathise with you if you are having a bad day (or a string of losses – which is inevitable in the end!). They were always available to ask questions or share their opinion on any trade ideas that you may have. Also, having guys like Piers, Will and Anthony around is great.
Are you still trading at the moment?
Yes, I am now trading my own book after quitting work and taking the plunge to trade full time. I do this remotely in an office in my home town. However, Amplify Trading have always said their doors are always open to pop in and see them to have a catch up and get some advice going forward. And so I popped in only last week! You can never stop learning from a team like them.
To me, Amplify Trading are the epitome of professionalism, and it was so refreshing to work with a company like them after having gone through many online courses created by amateurs claiming to be professionals.
If you are serious about a career in trading or have an interest in employment within the financial sector, then I would strongly urge anyone to enrol in one of the
Amplify Trading courses
. I guarantee you will take something of true value away from it.
View Ben's LinkedIn profile HERE.
The Market Maker

daily
e-newsletter and weekly podcast
99% said it helped them gain better knowledge of markets
70% said it helped them prepare for a job interview
Top 5% most followed podcasts globally
Top 5% most shared globally in 2022
Listened to in 84 countries world-wide