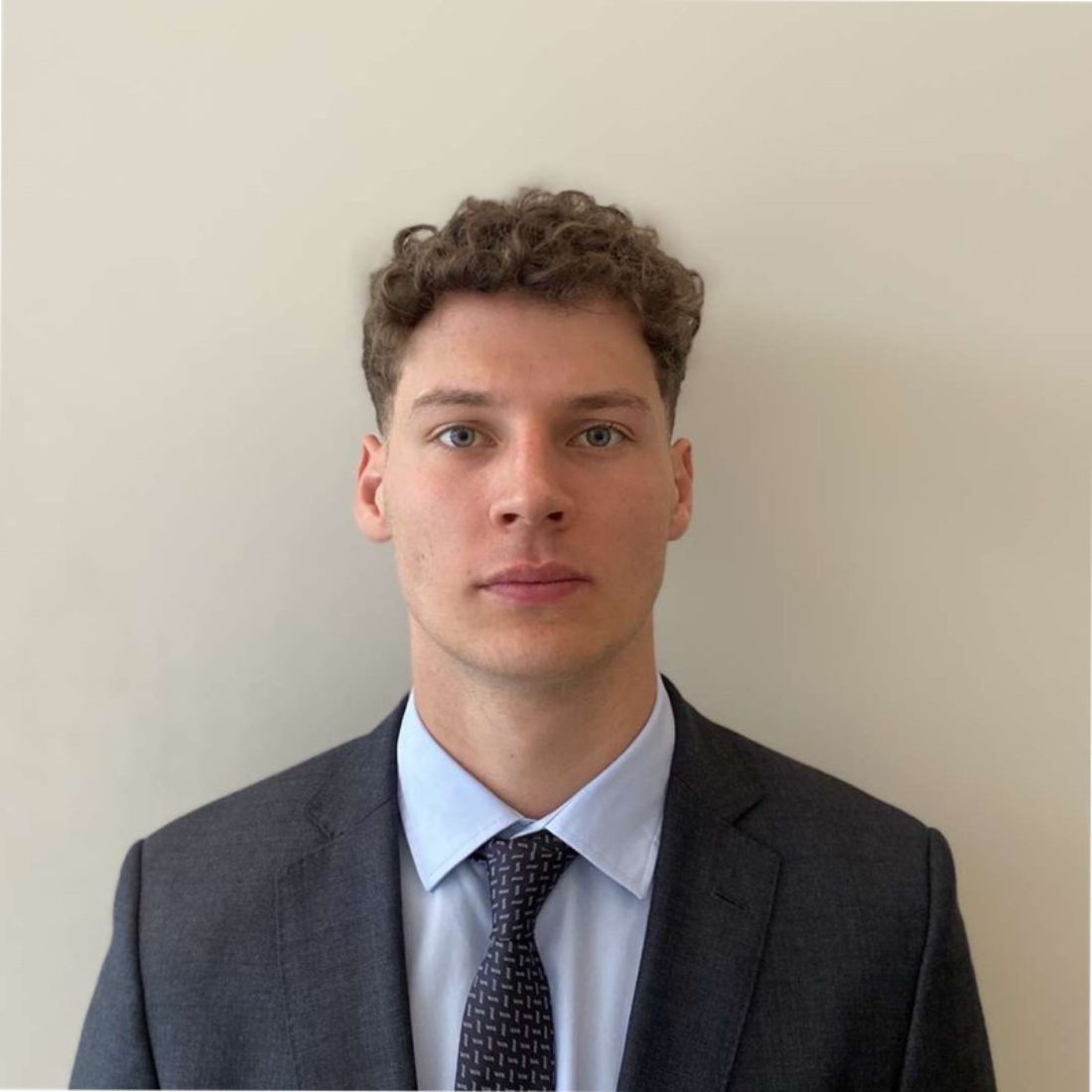 Archie Turley
2023 Morgan Stanley Sales and Trading Summer Analyst
Final Year BSc Hons Mathematics, Statistics and Finance
What got you interested in finance and how did you hear about AmplifyME?
At school my strengths were in maths and economics and so when I joined university in first year it seemed like an obvious choice to explore a career in finance. The application of maths to real world problems has always interested me so I got involved with the finance society and spoke to the careers department. I was told that spring weeks are a great way into the world of finance for a first year so, even though I was on a 4 year course, I applied to about 10 to see how competitive these places were and try to learn as much as possible.

I got rejected from everywhere without one interview and so I learnt I needed to turn something around before applying to placements in my second year and that's where I came across the Finance Accelerator and Global Markets Academy at AmplifyME.

After really enjoying these experiences I thought this could make the difference for me and so I did the Summer Analyst course. Fortunately I was right and it did make a huge difference!
What university are you at and what are you studying?
I am at Durham University studying Economics, Mathematics and Computer Science. This slightly unusual degree comes under the Natural Sciences Department and I came across it because initially I wanted to study Maths and Economics at university.

Those were my favourite A levels, so for me it was a logical choice but when I realised that studying the joint honours came under the Durham Natural Sciences Department (similar to a liberal arts but for numerical subjects), I saw that I could take up a third subject. I've wanted to learn to code for a while now so Computer Science was the obvious choice.


What internship and placement year have you secured?
I have secured the Morgan Stanley Sales and Trading Placement Year. This for me was my number one choice going into the application process for a couple of reasons. Firstly, finding a placement year in sales and trading is tougher than you think so I had applied for lots of different placements (buys side, IBD, consulting etc.) but sales and trading is what I wanted to do so a placement in that department at a firm like Morgan Stanley was always going to be a top choice for me.

Secondly, after my experience with AmplifyME given their partnership with Morgan Stanley, I had spoken to or heard from a number of people already at the firm who seemed to really enjoy the working environment so I had an insight into Morgan Stanley's culture which I hadn't come close to with any other sell side institution.
How did the AmplifyME Summer Analyst Programme help you with your applications?
There is a lot I could say here but I will stick to the three biggest factors.

The first would be the network; as alluded to earlier the networking days gave me the opportunity to find out about the Morgan Stanley placement year in the first place and gave me an insight into the culture at the firm. I talked about some of the conversations I had had in my cover letter and interviews and it seems like those people were then a good reference for me within the firm.

My second point is quite obviously the learning content from the 3 weeks. The programme was the biggest experience on my CV and I spoke about different parts of it in many of my interviews.

Finally the application support afterwards from AmplifyME; Emre was a great help with my CV and cover letter and the fast track early application for Morgan Stanley gave me a great early advantage.
I understand you had a few different offers, how did you decide what to accept?
Morgan Stanley was my number one choice from the start both because it was my favourite firm and the placement was in the division I most wanted to work in. As I said I applied to a fair few different roles but in late November I had 3 roles to choose between before I'd even heard back from a lot of firms. UBS banking, Morgan Stanley Sales and Trading and BlackRock had asked for a follow up call after their 'Interview Day'.

Putting the firms aside, I simplified this decision by deciding which week of the AmplifyME Summer Analyst Programme did I most enjoy: IBD, sell-side or buy-side.
Having completed a number of assessment centres what advice would you give other students?
The first thing I would say is simplify it for yourself so that you don't sound so rehearsed- I had a checklist of 5 basic things to have in my head before each interview: Why the firm, why the role, news event that interested you (maybe one macro and one that involved the firm), pitch me a stock and questions for them.

If you know good answers to these five and you have kept up to date with markets, the interview should be fine.