Amplify Summer Internship Programme Review:
Highlights Of The Summer
5 OCT 2018 | Trading
Helping students enter the financial industry is the most rewarding thing we do, and the summer of 2018 was no exception. Students from Manchester to Mexico, studying subjects as varied as Chemistry to Quantitative finance joined us in the trading room for an intense experience in the heart of the City of London.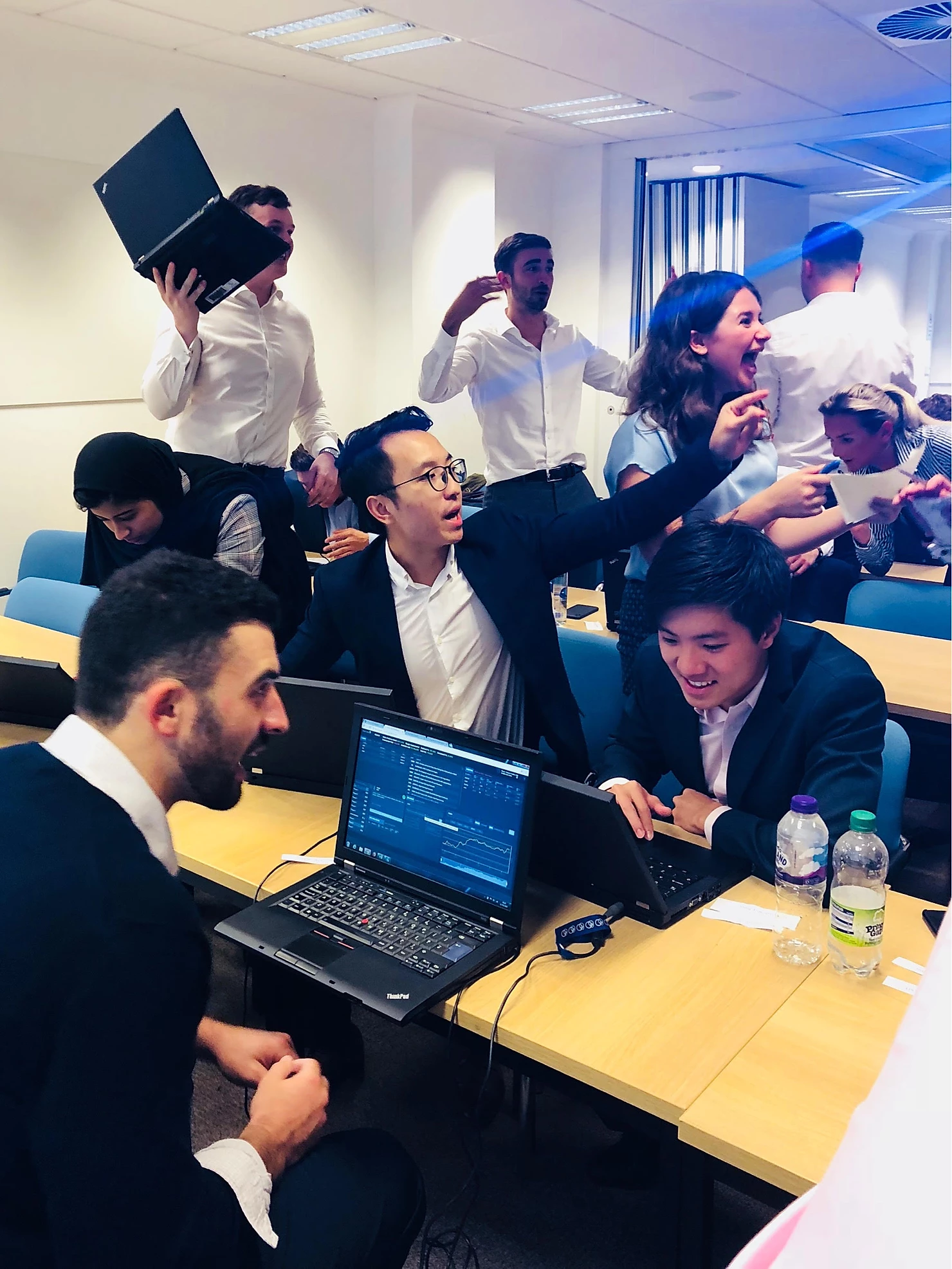 Amplify Trading simulation event

Week 1

The Internship training started by throwing the students straight in at the deep end with a crash course in Global Macro by our head of trading Piers Curran bringing everyone straight up to speed with current financial market trends. As record highs were made across equity markets, despite Trade Wars, Trump and Tesla, we were not short of conversation!

This macro overview was punctuated with networking simulations to help the students get to know each other and begin to create the bonds that define the Amplify experience and for many form friendships that last well beyond the summer.

The first focal point of industry specific training was in Asset Management, where we first explored the variety of career opportunities in the industry before launching into a series of buy-side simulations to gain a crucial initial experience, and find out if this would be the right career for them. The week ended in an Asset Management competition as students went head-to-head to allocate funds based on real unfolding macro news and events. Students were encouraged to stick to the risk limits given, but for some 'cowboys' the temptation was clearly too much!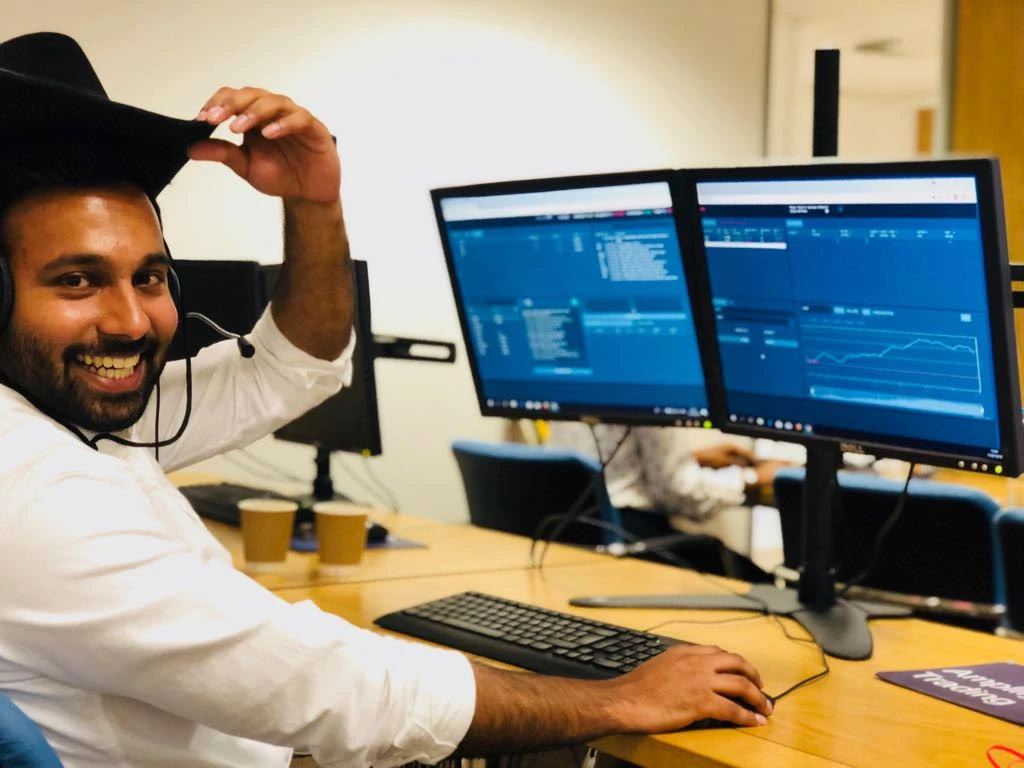 Cowboy Trader

Week 2

The second week of the programme focused more on live market trading as students applied technical analysis and fundamental strategies learned with the Amplify trading team on live market prices. Managing trades within an environment of uncertainty and risk helped the interns gain a great insight into the pressures and stresses of working as a trader, with many finding our other roles in finance a little less stressful!

More screens, more pressure?

As timing would have it however, light relief was just around the corner, as we all got to watch others perform (or not) in a high-pressured environment with regular world cup social events to see the England team miss out in the semi-final and France winning the final!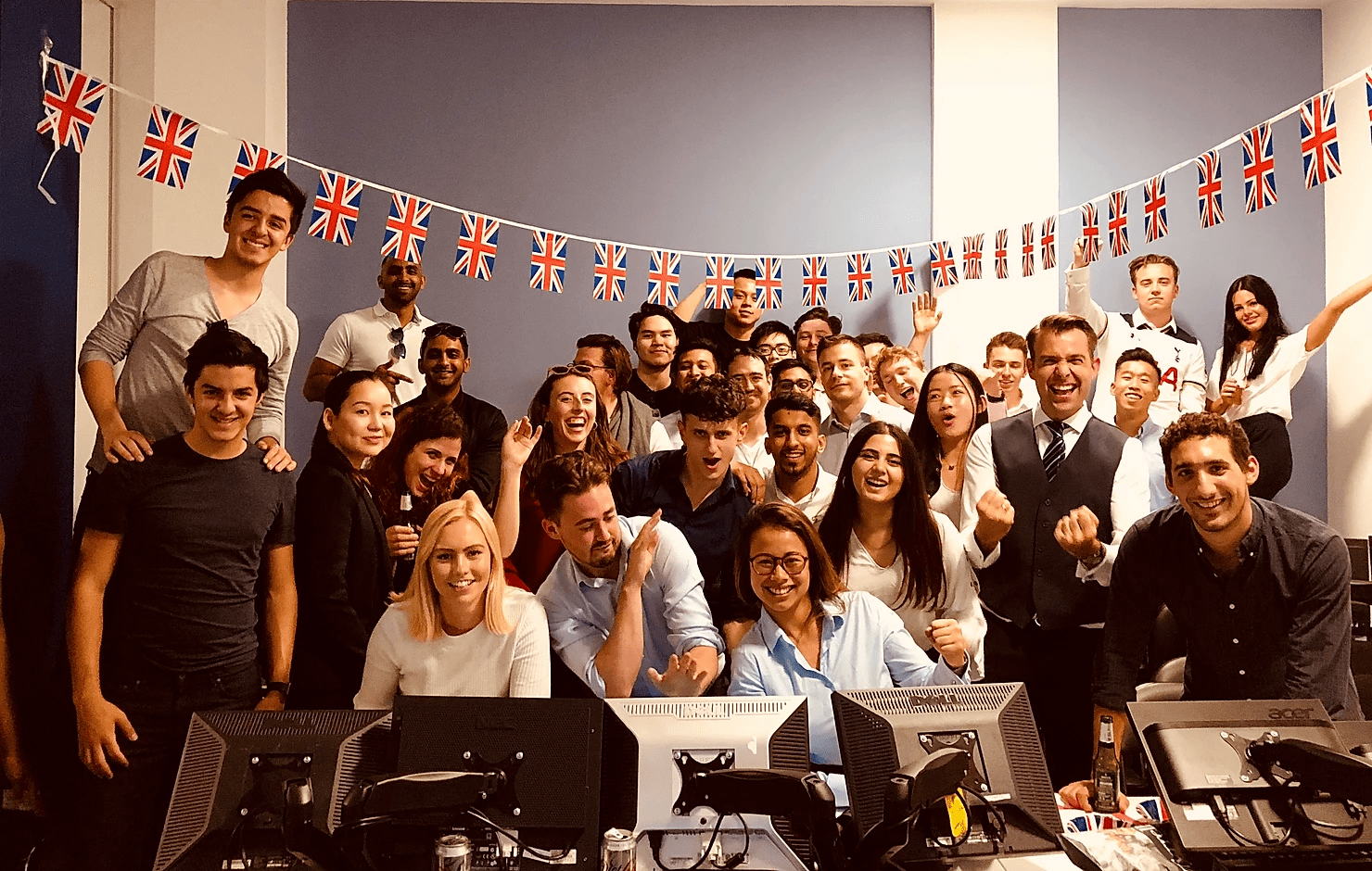 The England football team could have used our training on performing under pressure

Week 3

The third week was all about the sell-side of the industry as students moved from market making, to sales trading and broking to experience what it may be like to work for an investment bank global markets desk or brokerage firm.
The impact of the previous two week's training really started to shine through as the interns used advanced terminology and extensive market knowledge, showing excellent technical skills as they facilitated and risk managed client positions. It is strange to think just two weeks ago many would have had no experience of the financial markets world at all.
More market experience was combined with more social events. From roof top city tours to ping pong wars, it was fantastic to share our City with trainees who had now become good friends.

We also hosted an industry wide networking event where our key contacts from Barclays, Schroders, Bloomberg and Marex Spectron, to name a few, came to meet and connect with our summer trainees.
Amir Khadr - Head of Technology
Amplify Trading Networking Events | Summer Interns 2019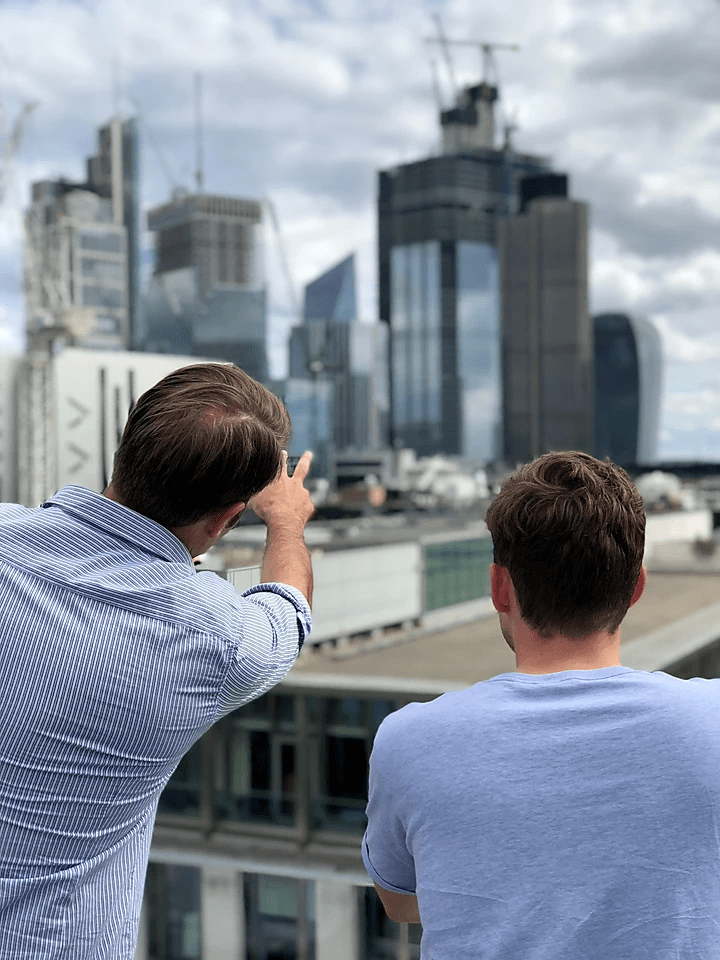 Sharing our city with trainees from all over the world
Week 4
The final week was focused on helping students ensure they could make the maximum impact in the recruitment process with their new critical competitive advantage. Now our trainees had a much better understanding of the financial industry as a whole, and of course a detailed individual performance profile that helped them understand what roles they would be better suited to Now is the time to use the Amplify experience to get the jobs they aspire to.

From 1-1 CV training to step by step application advice, our team of application experts took our candidates through everything they needed to know to secure their desired role, and connected many directly with their most sought after employers, of whom a large amount are Amplify's direct clients. (By the end of August students had already secured positions at Morgan Stanley and TPICAP) It was great to see the feedback, the results and the genuine difference we made this summer to all those that joined us in 2018.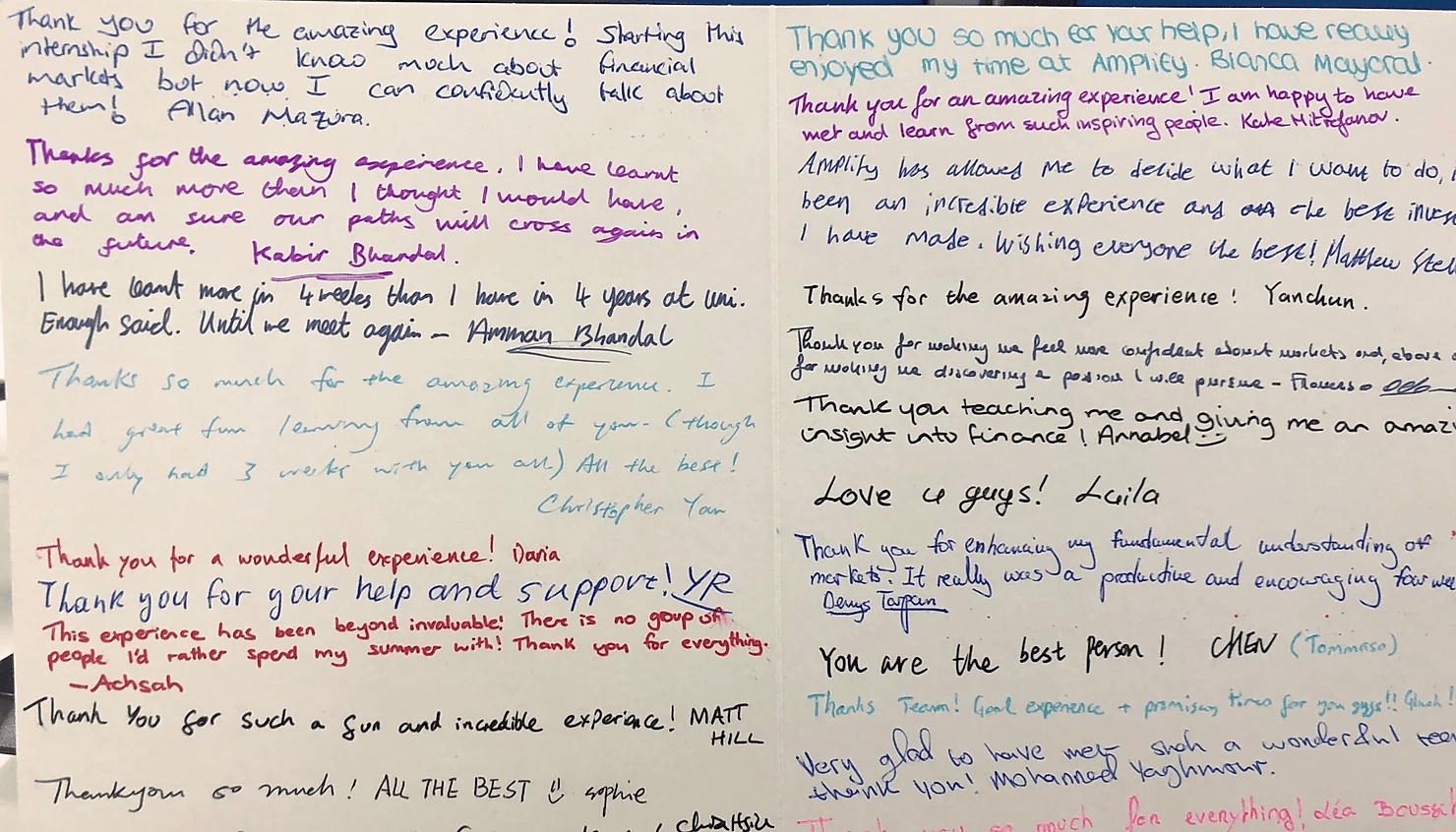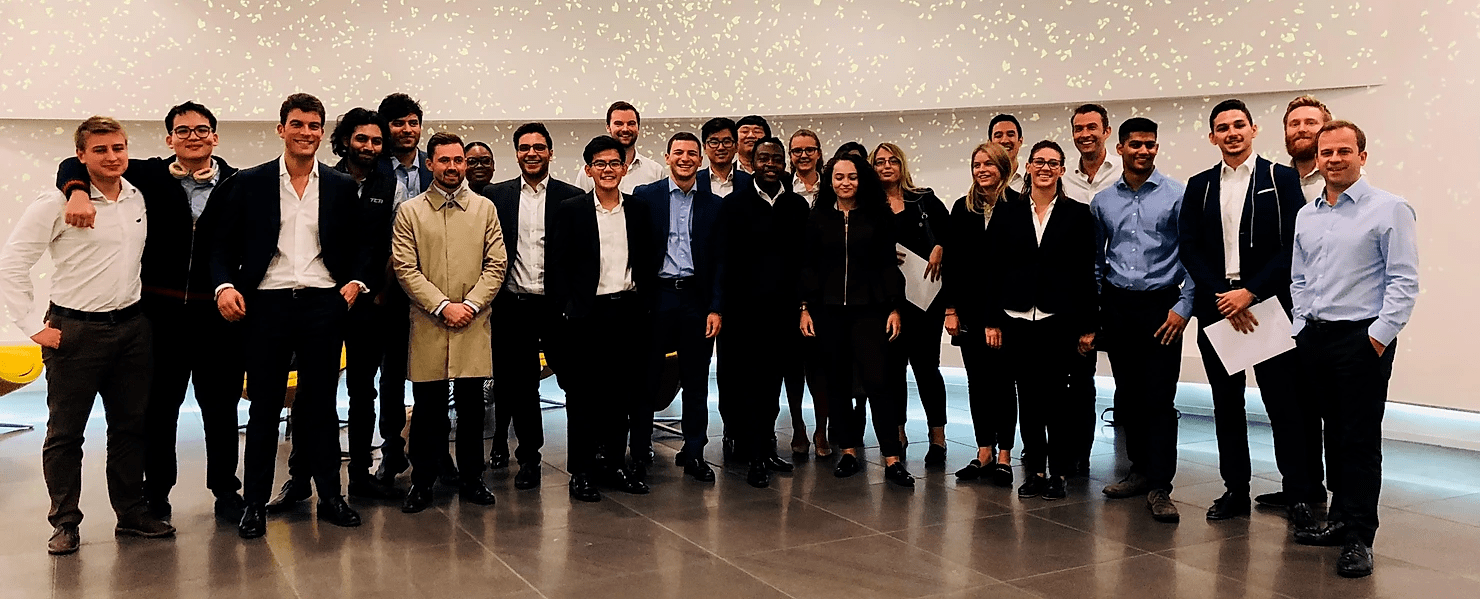 Photo and card from our last summer intake of 2018
The Market Maker

daily
e-newsletter and weekly podcast
99% said it helped them gain better knowledge of markets
70% said it helped them prepare for a job interview
Top 5% most followed podcasts globally
Top 5% most shared globally in 2022
Listened to in 84 countries world-wide