29th november 2021 / WILL DE LUCY
Training The Street
Our mission to disrupt conventional training and recruitment in finance started in 2009, when markets started to behave in a wildly different way to what many practitioners, academics and experts had expected.
We wanted to build better, practical training that would be relevant to the markets today and the demands of working within them.

Innovation in technology is core to our approach, and now our simulations and practical assessments are used by many of the world's largest financial firms. Their objective is to either help their new hires get desk ready for the role, or to be connected with high potential candidates with a proven track record.

The simulations we have built are wide and diverse. Below are just some examples of our platforms and how they are used by different institutional clients around the world.
Who we work with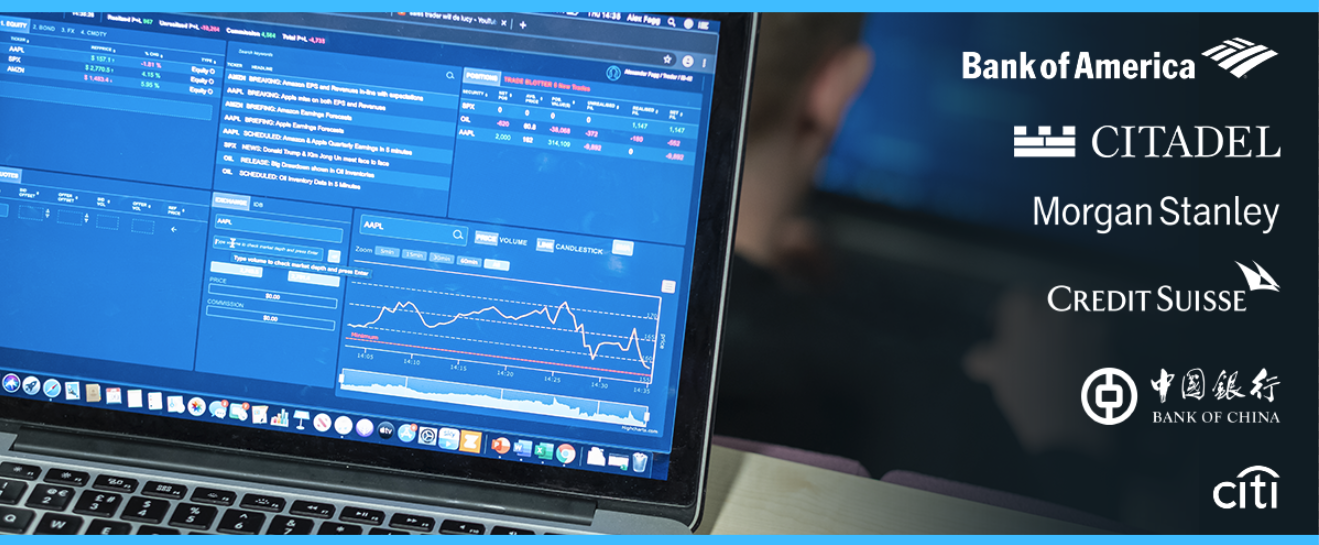 Quantitative Research and Trading Simulation Level 1, 2, 3, 4, 5


Helping engineers to automate through programming; price making, hedging, and arbitrage strategies. Identifying potential future hires through a global attraction programme.

IPO Simulation


Working with the ECM division to deliver a practical experience for candidates in the Investment Banking Division, helping them to win a client mandate, deliver a roadshow and execute an IPO.
Advanced Commodity Simulation


A simulation to help new hires develop energy risk management strategies from the reference point of a producer, refinery and trader.

Sales and Trading Simulation Levels 1, 2, 3


Implemented throughout 4 month training programme to develop sales and trading proficiency and identify outstanding performers.

ReTrader Simulation


Candidates use the Amplify app to ReTrade the most recent major market events.

Risk Simulation


Taking senior traders through highly leveraged trade scenarios to examine behaviour and trading psychology. Live Markets Simulation


Integrated throughout the EMEA internship programme, Live Trader gives candidates the chance to execute across asset classes in response to real breaking news events.

Asset Management in Practice


Used in both Shanghai and London to help mid-level teams deploy global multi-asset portfolios.
Future of finance
We are also proud to work with over 80 universities and business schools around the world including Oxford University, The London Business School, Imperial, ESCP, IE and HKUST.
As the industry and roles within it continue to change, we will continue to innovate to ensure our technology is always cutting edge.

If you are reading this and have any thought about a practical experience or assessment currently missing please do let us know, we would love to hear your view, and can credit the new simulation to you!

Best,