10TH december 2021 / anthony cheung
INVESTMENT BANKING
Does More Money Make You Happy?
Goldman Sachs may boost its bonus pool for investment banking by about 50%, and JPMorgan Chase & Co. may reach for a 40% increase, according to people with knowledge of their initial deliberations, according to
Bloomberg
.
SHARING IS CARING
At Goldman, the banking group led by Dan Dees and Jim Esposito posted a 63% jump in revenue in 2021's first nine months from the same period last year. That helped push the company's total revenue and profit beyond any level it's ever achieved in a full year.
At JPMorgan's investment bank, the jump in fees was 42% for the first nine months. In the fourth quarter, investment-banking fees will probably surge 35% from a year earlier, JPMorgan's Daniel Pinto said at a conference last week. (chart below via
FT
)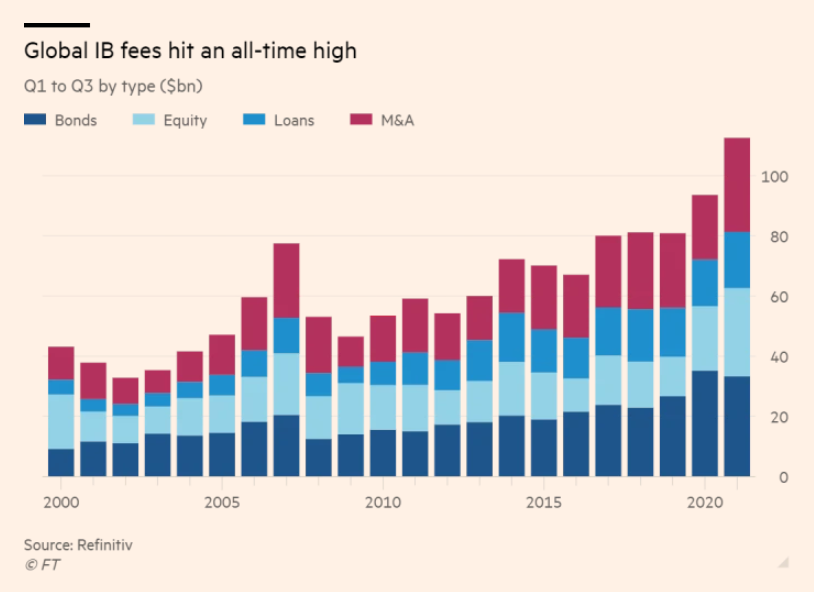 PLEASE STAY!
A great quote I saw that sums up the current environment from a senior US banker was "you are paying for retention and not just paying for performance".
Remember back in the summer, there was a
leaked document
from 13 disgruntled analysts at Goldman Sachs who wrote about 'inhuman' 100 hour work weeks, rating there job satisfaction as two out of 10, with most saying they were victims of workplace bullying. The response from Wall Street - pay them more!
Most banks have raised their pay for first-year associates to $100,000 from $85,000 — an increase of 17.5%. Evercore remains at the top of the pack, after giving its first-years a $25,000 bump to $120,000, according to Bloomberg. (Chart via Will Chase/
Axios
)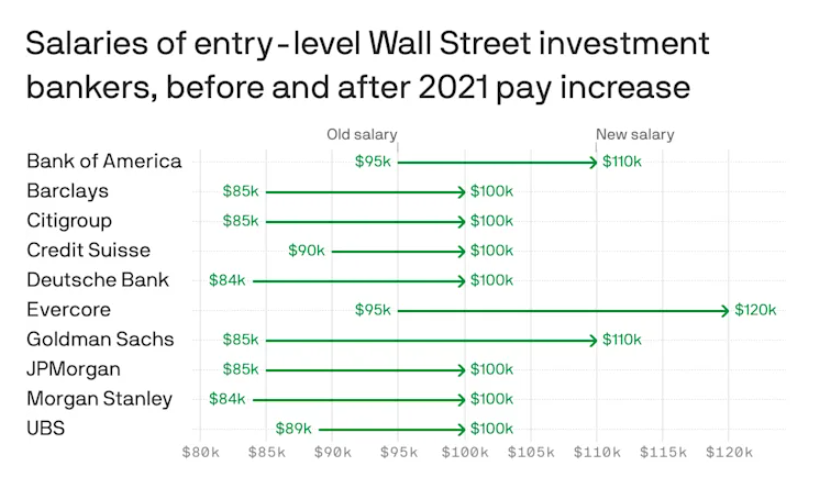 DOES PAYING PEOPLE MORE MONEY WORK?
A good question! In a Harvard Business Review
report
they cite a paper where authors reviewed 120 years of research to synthesize the findings from 92 quantitative studies. The combined dataset included over 15,000 individuals and 115 correlation coefficients.
The result? The association between salary and job satisfaction is very weak.
In fact, a second study goes on to state that the more people focus on their salaries, the less they will focus on satisfying their intellectual curiosity, learning new skills, or having fun, and those are the very things that make people perform best.
KEY TAKEAWAY
Times are changing and so to are the values in which the new generation of talent are demanding from their employers.

Providing a Peloton bike to workers might sound cool but addresses the symptom not the cause. Begrudgingly, or not, the finance industry culture needs to adapt to the aspirations of young people. These are the inherent challenges of running an often multi-genarational organisation.

There is no doubt that this year has seen some substaintial, and welcome, changes in the industry when it comes to workers compension and benefits. However, for large financial institutions my guess is that change beyond a pay cheque is what is needed to attract, retain and see performance excel from employees over the long-term.