Leeds University Business School Case Study
1 NOV 2018 | Trading
"Thanks to our established relationship with Amplify Trading, students have access to the latest professional expertise direct from the City"
Kostas Bozos
Director of PG A&F Programmes
https://business.leeds.ac.uk/about-us/our-people/staff-directory/profile/konstantinos-bozos/
The Leeds University Business School engaged Amplify to administer and deliver a week-long Trading Internship for all it's MSc students (approximately 200), studying across the following programmes:
MSc Accounting and Finance
MSc Actuarial Finance
MSc Banking and International Finance
MSc Finance and Investment
MSc Financial Mathematics
MSc Law and Finance
MSc Financial Risk Management
The objectives of the Leeds University Business School were to:
Bridge the geographical gap between its location in the North of England and the City of London, by allowing its students access to facilities, opportunities and networks which are not easily accessible form Leeds.
Enhance its award winning -heavily theoretical- curriculum with the more practical and 'hands-on' aspects of the modern world of finance. This experience was aimed at facilitating an even deeper understanding of the theoretical underpinnings taught throughout the course of the programme.
Help students familiarize with the high-spec technology used by major investment banks and financial market traders, fund managers and treasurers across the world's biggest employers.
Prepare students for interviewing at relevant assessment centers, by enhancing their commercial awareness, increasing their confidence and self-awareness, improving negotiation, communication and decision skills and overall employability.
Students spent a week on a specially configured 'trading floor' at the Business School, connected to real-time financial market information. The simulation allows students to gain a practical understanding of the financial markets, whilst developing important professional skills
Impact on the client:
Amir Khadr - Head of Technology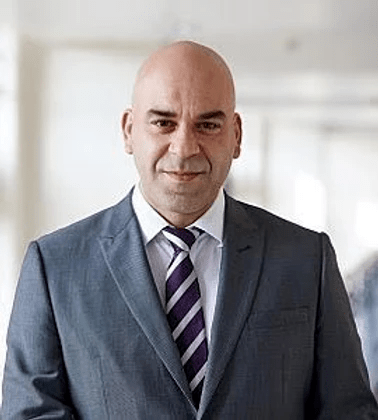 Director of Postgraduate Accounting and Finance programmes; Dr Konstantinos Bozos
Director of Postgraduate Accounting and Finance programmes;
Dr Konstantinos Bozos
explains: "This training formula, is at the heart of our pedagogical philosophy, which is to deliver the right balance among academic excellence, practical training and the development of those increasingly sought-after 'soft' skills."
Phillip Joy, an MSc Banking and International Finance student from the UK commented, "The trading week has greatly enhanced my understanding of markets - reasons why the market moved and behaved as it did were explained. Applying theory to the trading floor allowed me to get a deeper feeling of how the theory relates to actual markets."
MSc Finance and Investment student Jack Willis, also from the UK said, "I have learnt that both the theoretical and technical aspects of my studies here at Leeds are both of vital importance in financial markets."
"It's an excellent opportunity that benefits students who get to observe how the oil, bonds market etc is structured. It can only be described as a unique experience and one that should be offered to all students who wish to join this particular field." Ekaterini Stylianidou MSc Law & Finance.
The University of Leeds Website states: "Thanks to our established relationship with Amplify Trading, students have access to the latest professional expertise direct from the City. We plan to continue to develop such activity, providing our students with enhanced relevant professional opportunities as part of our
Finance Masters programmes
."
The Business School's MSc Accounting and Finance programme was included in the Financial Times Master in
Finance Pre-Experience ranking the global ranking
of the world's top finance programmes.
The results are a recognition of the quality of the
Accounting and Finance
programmes at Leeds, and the part they play in the career progress of alumni. The ranking positioned the programme as:
2nd globally for percentage salary increase
6th in the UK for careers progress. This is calculated according to changes in the level of seniority and the size of company alumni are working for between graduation and today
5th in the UK for the effectiveness of its careers service in terms of career counselling, personal development and recruitment
100% of alumni surveyed were employed within three months of graduating
Overall the programme was placed 15th in the UK, and 61st globally
The Market Maker

daily
e-newsletter and weekly podcast
99% said it helped them gain better knowledge of markets
70% said it helped them prepare for a job interview
Top 5% most followed podcasts globally
Top 5% most shared globally in 2022
Listened to in 84 countries world-wide