Making an Impact on our Clients

27 JULY 2020 | Careers
Amplify Trading - disrupting traditional financial training and recruitment
Amplify Trading ground-breaking approach to capital markets training has been delivered to the world's largest financial institutions since 2009.

From investment bank global markets to asset management and corporate finance, the practical simulations allow candidates to actually experience working in different financial roles. Now delivered to universities and business schools around the world, the Amplify Trading experience helps students find and secure, their future in finance.

What makes us different?
The simulations are used by financial firms all over the world to prepare their new graduate hires for the desk.

At university events, the students develop the exact skill-set employers are looking for and secure a significant career competitive advantage.

The feedback students deliver to the universities after the events combined with the career impact has had a significant rankings impact on many of our clients.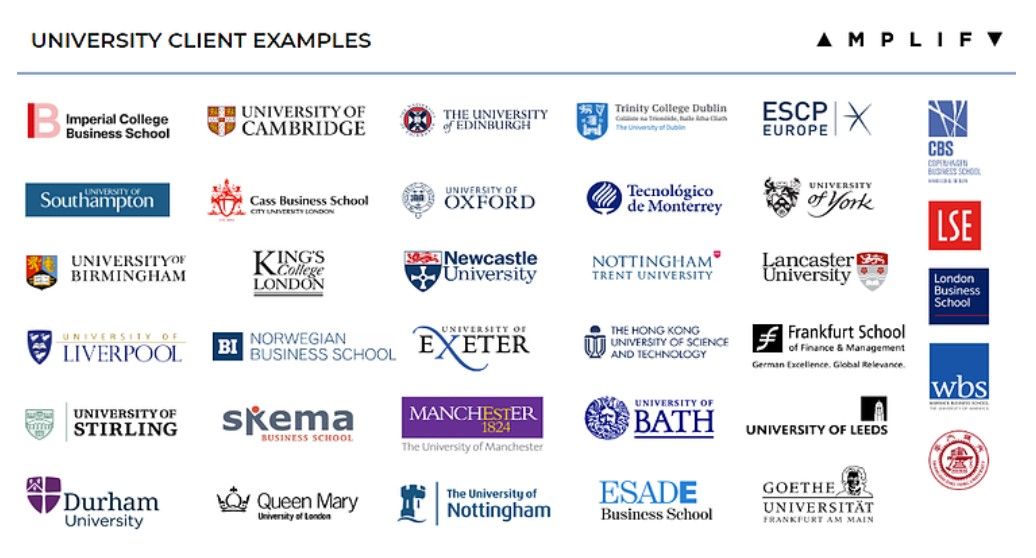 Amir Khadr - Head of Technology
Finding Students Future in Finance with quantifiable performance
Students that take Amplify's simulations are able to leverage the experience on the CV and top performers are connected directly with Amplify's many corporate clients.

The experience provides a significant boost to any student CV with many sharing their results on LinkedIn. Out-performers are fast-tracked by Amplify's clients for internship and graduate roles.

From the effectiveness of voice communication in a sales trader role to responsibility and risk management of a market maker, the simulations help students find where their strengths lie.

ILLUSTRATIVE CASE STUDIES
"Since embedding Amplify's practical experience across all MSc studies at the Business School, the MSc Accounting and Finance programme has risen to be ranked 2nd by the FT globally for percentage salary increase and 6th in the UK for careers" Kostas Bozos, Director of PG A&F Programmes, University of Leeds.

The University of Leeds, a new client in 2015, Amplify delivered a five-day simulation programme to 70 MSc Finance students. Amplify now delivers four consecutive weeks to over 200 Masters students from all finance and accounting disciplines.

Morgan Stanley uses Amplify's simulations to help the market to and identify, a diverse range of student talent across EMEA and Asia. Our partnership with Morgan Stanley was shortlisted for the Best Innovation in Student Recruitment in 2019


The Market Maker

daily
e-newsletter and weekly podcast
99% said it helped them gain better knowledge of markets
70% said it helped them prepare for a job interview
Top 5% most followed podcasts globally
Top 5% most shared globally in 2022
Listened to in 84 countries world-wide