Mohannad Yaghmour:
Placement year with Proprium
Capital

20 FEB 2019 | Careers
Amir Khadr - Head of Technology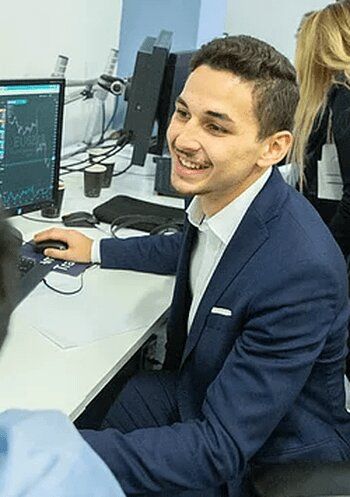 Mohannad Yaghmour
What course did you do with Amplify Trading and when?
I completed the 4-week summer internship course starting late August 2018.
Why did you choose Amplify Trading?
I was interested in expanding my knowledge in the financial field and gaining some experience to use as leverage when applying for internships/placements. My initial interest in Amplify Trading began when they conducted a trading session at my University which I was unable to attend, however, the feedback I heard from my friends was very positive and encouraging. Apart from that, an alumnus of the university currently working at Amplify Trading highly recommended the program for reasons that became apparent once I started the course.
Having completed the summer internship, I am very pleased with the course structure and would highly recommend it to anyone interested in the world of finance.
What was your knowledge of financial markets prior to attending the course?
I had limited knowledge of financial markets prior to starting the course which worried me initially, however, that proved to be no obstacle once I started. The course is structured in a way that brings everyone up to speed through different lectures and simulations.
What part of the course did you find the most beneficial?
What stood out the most for me was trading in live markets. Being able to trade events such as FED decisions and Brexit related news as it happens, has made me understand markets on a much deeper level and as a result, I was able to really get technical in my interviews.
How did the Amplify Trading experience help with you securing a placement year with Proprium Capital?
As I mentioned above, being able to speak about markets from both a technical and fundamental view has definitely played to my advantage. I was challenged on my understanding of markets and the global economy in almost every interview I have had, and I do not believe I would've been able to answer the same way had I not completed the course.
Additionally, the Amplify Trading team's advice and support on the matter of securing a role in the industry has definitely made me understand the process better and hence I knew how to properly tackle my applications. I also believe that completing the course is a signal to employers of your genuine interest in the finance world, and shows that you are proactive in deciding to undertake a 4-week course during the summer.
How did Amplify Trading help in the career side?
The Amplify Trading team has offered constant support and advice both during and after the course. Their advice on approaching applications, interviews and the process as a whole has been very beneficial.
Your association as an intern with Amplify Trading does not end when the course ends, as the team is available to answer questions even after its done. In my case, I reached out to Amplify Trading's Director, Anthony, for some advice to which he was more than happy to help.
What advice would you give to students seeking a placement year or summer internship programme?
Quality over quantity. I personally put a lot of effort and time into tailoring my CV and cover letters to the roles I applied to and I believe that was a big factor in me getting different interviews.
If you make it through to the interview stage, then make sure to complete your due diligence and prepare accordingly. At the interview stage, it is very much dependent on you and how well prepared you are, so ensure everything is covered and prepared for. Do not be afraid to lead the conversation!
Most importantly, do not be disheartened after getting rejected. It's part of the process and every single rejection is an opportunity to learn. Trust and enjoy the process – sometimes it is not the right role for you.
You can view Mohannad's LinkedIn profile HERE.
The Market Maker

daily
e-newsletter and weekly podcast
99% said it helped them gain better knowledge of markets
70% said it helped them prepare for a job interview
Top 5% most followed podcasts globally
Top 5% most shared globally in 2022
Listened to in 84 countries world-wide