Pilots Swap The Cockpit
For Trading Screens - Ft Review

15 OCT 2020 | Careers
The Financial Times reviews Amplify Trading's Pilot Training Experiment.

This summer Amplify Trading selected five furloughed pilots to go through an intensive training programme to trade a funded account, live and online through
the AmplifyLIVE Trader Hub.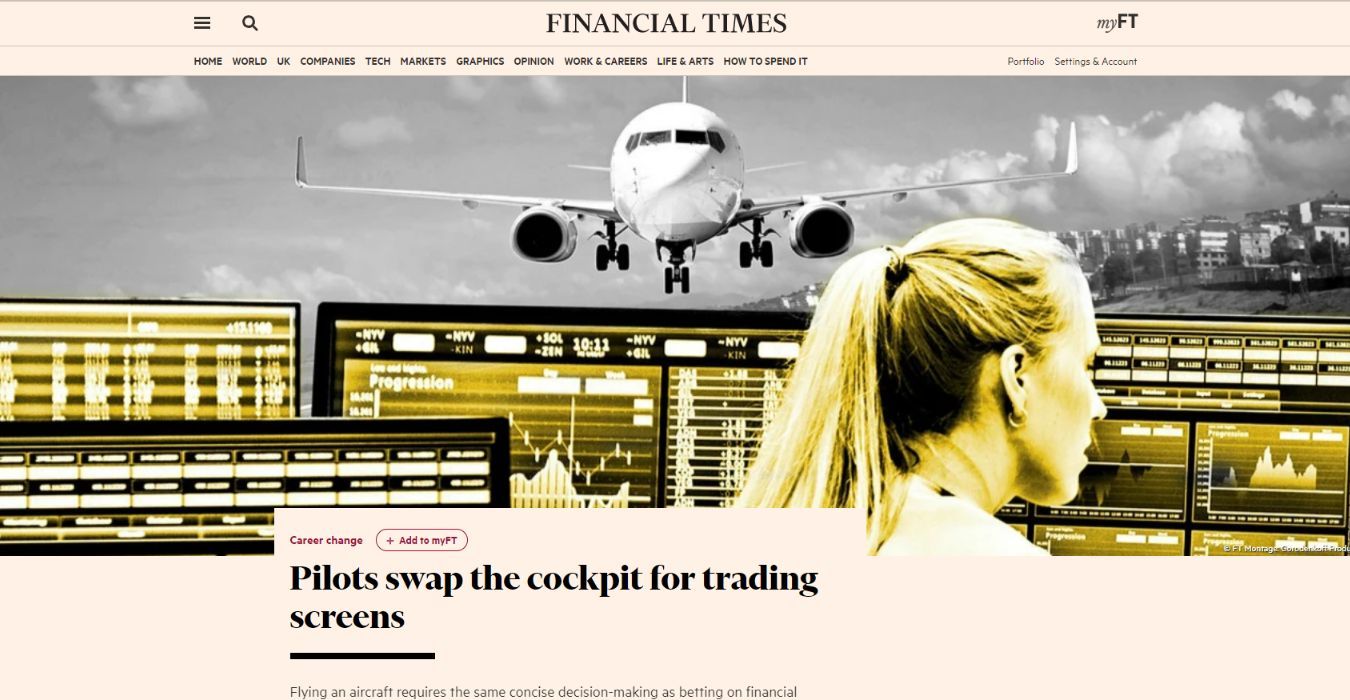 Key findings
Our experiment focussed on key behavioural variables to examine whether pilots had a natural advantage in trading.
"It's absolutely possible for pilots to pivot towards trading roles" Jason Sippel, Head of Global Equities Trading at JPMorgan
The pilots were assessed in comparison to a control group of 8 other new traders who were trained and monitored in exactly the same way.
There were clear comparisons between the challenges of managing the risk of aircraft control and managing the risk of a trade as discussed by
Kate North-Hill
with Amplify Trading's Managing Director Will de Lucy:
Amir Khadr - Head of Technology
Ability to maintain process and control
The pilots exhibited a natural discipline in sticking to the predefined rules of their trading strategy, which resulted in them taking fewer trades and holding their positions for longer with more conviction. In live market trading, the pilots would spend almost twice as long in the trades they chose to execute, and took only 1/3 of the opportunities taken by the control group. As many new traders suffer from over-trading and indecision, this was a clear advantage for the pilot group.



Risk and return
The pilots had a higher percentage of profitable trades and a lower percentage of losing trades in comparison to the control group. This reflects their selective approach to decision making, following a clear trade plan before executing a position.



However, when they did have a losing trade, that position would be more costly to the pilot than the average of the control group.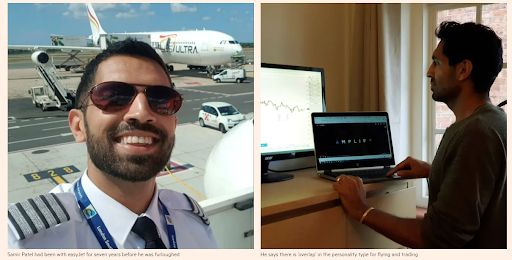 Conclusion of the study
We expected the pilots to show an outperformance in following the trading process as a result of their years of aviation training. This was proven to be the case and was clearly one of the strongest parallels between flying and trading.
The pilots ability to hold profitable trades was clearly a game changer and shows excellent potential for those who continue to trade with Amplify Trading.
However, this discipline and control also meant poor trades were held on for too long. We think this may be due to the fact that a key part of day-trading can be the ability to follow intuition and impulse, when the time is right to do so. This is something the pilots would not be accustomed to doing.
As every trader knows, it's a difficult balance to achieve. Self-awareness and the ability to monitor and manage behaviour is a key part of the Amplify Trading philosophy, and core to much of the training and development delivered to our new traders.
To receive free access to all the training content received by the pilots, and to connect with Amplify Trading LIVE throughout the day please access your
trial to AmplifyLIVE here.
The Market Maker

daily
e-newsletter and weekly podcast
99% said it helped them gain better knowledge of markets
70% said it helped them prepare for a job interview
Top 5% most followed podcasts globally
Top 5% most shared globally in 2022
Listened to in 84 countries world-wide