Abdel Rahman Ghanim: Student

14 AUG 2019 | Careers
Amir Khadr - Head of Technology
Abdel Rahman (AR) had been trading his own personal portfolio for over three years, but had come to realise that experience alone was not enough without a thorough understanding of how markets really work.

As such, he did the professional trading course on the 28th May 2019, alongside a group of individuals that ranged from an ex-army officer to a solicitor (AR second left, alongside some of his cohort).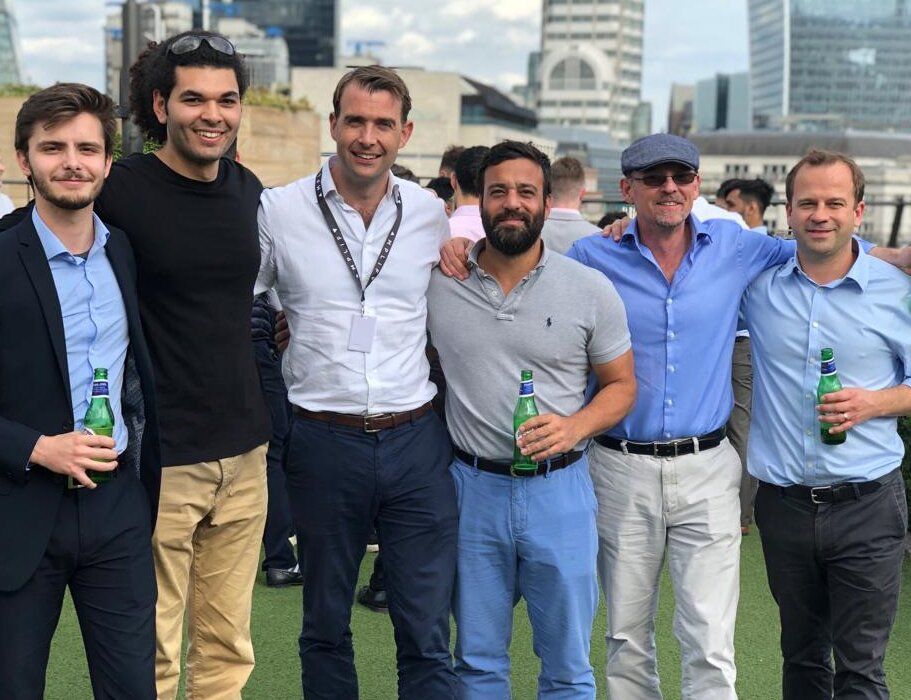 What made you choose Amplify Trading?
I first came to know Amplify in 2017 through browsing the web. The reputation of the company preceded the name. Later on, I came to realise that the BBC had made a short
documentary
on the company which was very appealing to me.
I also contacted a couple of colleagues who have done the other Amplify courses and they were very pleased with the team and the experience. All in all, Amplify seemed to be the top financial educational provider and the best choice for me.
Did you have any previous experience of financial markets or trading before you started the programme?
Yes, I have been trading my personal portfolio for at least three years and have interacted with several markets. I have come to realise that experience alone is not enough without a proper understanding of how markets really work in order to become a profitable trader.
Being a student of economics at University, it was also a big motivation for me to learn the fundamental side of financial markets from a hands on perspective and gain a deeper understanding of how influential geopolitics is for markets.
How did this course differ to previous ones you have done?
The course at Amplify was mostly appealing to me because it provides a certified diploma in Trading and Financial Market Analysis. In addition to providing an institutional level of fundamental market economics teaching.
What part of the course did you find most beneficial?
The trade blotter that was introduced by the team was a crucial turning point for my trading performance. I have not followed such an approach in the past which lead to frustration and repeated mistakes that cost me a lot of money.
Secondly, the framework the team has provided to help fit every economic data point in the right place to enable me to construct a coherent conclusion from which I can base my trading strategy on. Finally, learning to separate the 'noise' from the market moving data releases and how to use the major releases to enhance my success rate.
What was it like working with the Amplify team?
A very pleasant experience. The team were always available to answer any of my questions and they gave adequate time to explain. The working environment was very friendly and relaxed. Will de Lucy and Piers Curran (Directors) both gave generous advice and were happy to have an open conversation given a chance.
In stage 3, Anthony gave a lot of valuable information about the industry of finance, the economic machine as a whole and shared a lot of his personal experience. He has also helped me construct a professional C.V. and explore my future career options.
Sam North (Senior Trader) taught me how trade professionally, how to look for the highest quality technical trading setups and manage my risk properly.
Charlie, Saif and Tommaso (Market Analysts) helped me lay the fundamentals of trading throughout stage 1 and 2. Ellen and Sam where available on the administrative side and have helped me throughout the course.
What is your long-term trading plan?
I am looking forward to make a transition to full-time trading in 2021, as I am yet to finish my final year of study. I am keeping reasonable expectations whilst understanding that my emotional and psychological discipline are key to success in the trading career. I might also be considering working with a hedge fund given an opportunity.
If you are inspired by AR's story and would like to learn to trade with Amplify Trading, head over to AmplifyLIVE and find out more.
The Market Maker

daily
e-newsletter and weekly podcast
99% said it helped them gain better knowledge of markets
70% said it helped them prepare for a job interview
Top 5% most followed podcasts globally
Top 5% most shared globally in 2022
Listened to in 84 countries world-wide